It was so fun to see everyone's incredible refashions last week,  I kept checking over and over again until the post was up.  I get so excited to see the creativity. This is such a great competition!
I went to 4 thrift stores until I finally found this gingham t-shirt dress to refashion.  I was relieved to finally find something that was gingham and workable; it was way harder than I thought it would be.
My vision was to create a cute button up.  Since the buttons didn't go all the way down, I was limited on how far I could take the side seams in.  I decided to use shirring for the first time.  It was so much easier than expected and made the top look fitted, while still allowing me to pull it over my head.  I also removed the sleeves so I could take up the underarm, as well as the sleeves.  This helped to tailor the top to my body.
I wanted to do something a little more creative, so I used the excess fabric to make three bow ties, a standard tie-on for my husband, a clip-on for my oldest, and a sewn-on  for my baby.  This was a lot harder than I expected, but I loved how it turned out!
For my husband's bowtie, I used this
tutorial.
And for the baby's, see the gif below.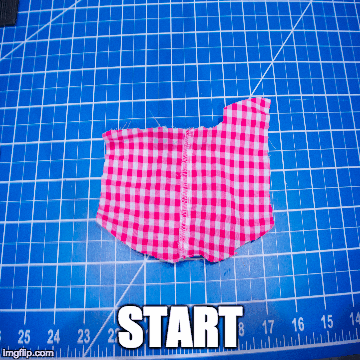 To sum it up:
Shirt: Originally from Savers, $6
Necklace: RocksBox, (use code camdensleepsxoxo for a free month, no strings attached!)
I also made this short video to show the before and after in 3D just for kicks.